THE MAGIC OF FREE ADVERTISING Book BY R. Neuman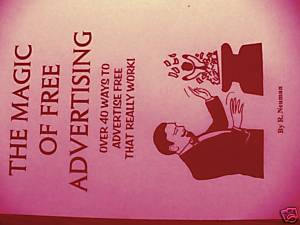 Solar-Vision Publishing/Copyright 2009/28 Pages/BRAND NEW/Softcover!!!

The biggest cost of any business is advertising. If you could advertise your business FOR FREE, how long do you think it would take you to become wealthy??? Even if you used only 1 or 2 of these methods, this book would easily pay for itself many times over!!! But there are OVER 40 of these FREE advertising methods in this book....methods that will work for nearly ANY type of business be it mail order, online, website or a brick and mortar store! This is DEFINITELY a manual that every business owner should keep a copy of on hand to reference. Read it over and over again. Could you imagine if you applied all 40 methods?

Each advertising method is described in detail and EASY TO APPLY!!

WILL ALSO RECEIVE THESE ASTOUNDING 2 FREE GIFTS: "16 ALL PROFIT ADS AND THE INFORMATION THEY SELL" (report tells you how to place 1" ads, or classified ads that rake in the money, and you keep ALL the profits! Includes the ads as well as the the information. An easy way to start up a little mail order business and garner experience!

"THE NATIONAL ADSHEET DIRECTORY" - Full of names/addresses/circulations of publications where you can run 1" camera ready ads for as little as $1.00, or even free! depending on the circulation. Includes names and addresses & circulations! Request free copies of these publications to run your cheap ads in, or get on their mailing list for lots of great money making opportunities! Some of them will even typeset your 30 word ad into a 1" ad FOR YOU, some offer classified advertising. This report even gives tips on EASILY creating your own camera ready 1" ads for submission to publications with Microsoft Word - with everything in this package, YOU'LL BE IN BUSINESS IN NO TIME!

As if the book alone isn't potentially worth thousands to you, these two free gifts are worth AT LEAST as much!! don't delay!! Order today! THIS AMAZING PACKAGE will be RUSHED TO YOUR DOOR via 1st class mail. IF NOT COMPLETELY SATISFIED, SEND THE BOOK BACK FOR A FULL REFUND AND KEEP THE 2 FREE GIFTS!!!!! And...


Email: hypnosisbooks@aol.com