COUPON CUTTING TIPS, TRICKS & STRATEGIES OF THE PRO'S Book By Adolf Otto Neuman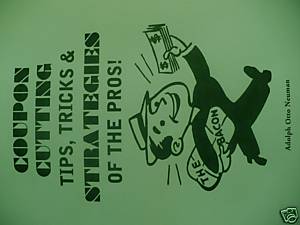 Solar-Vision Publishing / Copyright 2009 / 28 Page book / Softcover / Brand new!

This amazing book covers a broad spectrum of coupon techniques, tips and tricks that you can use together or separately. Also includes "non coupon" strategies that can be used with coupon strategies for SAVINGS DYNOMITE such as club cards, loss leaders, rebates, etc. Also includes sections with tips and tricks on on saving big money eating out at fast food restaurants and pizza places !!!!!!!

Covers it all, including How to get FREE COUPONS mailed right to your mailbox, HOW TO GET YOUR GROCERIES FOR FREE, how to get items not only free, but get money BACK when buying them, making money by SELLING your unwanted coupons on EBAY, online "coupon codes", aggressive coupon strategies such as "all coupon" shopping, using your coupon savings to put into a savings account or pay down your mortgage, saving money at stores that don't take coupons, findomg and using coupons for travel, hotels, etc. and MUCH, MUCH MORE!!!!!!!!! You'll refer to this handbook AGAIN AND AGAIN!! Lucky high bidder pays $1.95 shipping in the US and Canada, or $5 WORLDWIDE. Thanks for looking!!

This is an instructional book on coupon cutting and saving money by couponing. There are NO coupons in this book, just great strategies on how to use them to save BIG MONEY off your grocery bills!!


Email: hypnosisbooks@aol.com