The Mediterranean-Greek Restaurant Cookbook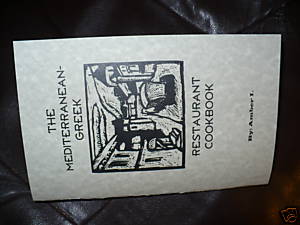 THE GREEK-MEDITERRANEAN RESTAURANT COOKBOOK By Amber I.

Solar-Vision Publishing/Brand new/40 pages/Softcover!!!

Item Description: Solar-Vision says------

Hello, and welcome to the latest addition to our "Restaurant Cookbook" series. Aptly titled "The Mediterranean-Greek Restaurant Cookbook". The Author tastefully takes you through classic Greek cuisine, based upon the menu of a very old and well established Mediterranean café. Don't wait any longer, the Greek spices and flavors are ready to simmer in your kitchen, plus the Baklava is to die for!~Solar-Vision Publishing 2009

Table of contents include:

MENU

Appetizers LEMON & CHICKEN SOUP GREEK FRIED CHEESE (Saganaki) CALAMARI GREEK POTATO SALAD BRIE WRAPPED BLACK OLIVES STUFFED TOMATOES with FETA CHEESE ARTICHOKES with LEMON SAUCE COOL CUCUMBER SALAD CHICKPEA SALAD GREEN BEAN & TOMATO SALAD BEEF STUFFED GRAPELEAVES (Yaprakia) HUMMUS POTATO GARLIC SPREAD FETA & DILL DIP FRIED EGGPLANT APPETIZERS w/ "Our" CREAMY GARLIC & LEMON DIP

Sandwiches & More GREEK LUNCH PITAS BEEF PITA FILLING CHICKEN PITA FILLING SPINACH & FETA PITA FILLING HOT FLAT BREAD SANDWICHES LAMB SHISH KEBABS served w/ WARM PITA MEATBALL SUB GREEK LAMB FETA BURGERS w/CUCUMBER SAUCE FALAFEL "CLASSIC" GYROS CHICKEN GYROS

Dressings & Salads TANGY CUCUMBER DRESSING YOGURT & GARLIC DRESSING LEMON, PEPPER & OIL DRESSING YOGURT & DILL DRESSING VILLAGE GREEK TRADITIONAL GREEK MANDARIN TURKEY SALMON, AVACADO, FETA, & ONION MEDITERRANEAN CHICKEN

Entrees & Pastas CHICKEN KEBABS BEEF KEBABS RICE PILAF GREEK CHICKEN SPANAKOPITA (Greek Spinach Pie) ROASTED RACK OF LAMB EGGPLANT PARMIGANA SHRIMP LEMON PEPPER LINGUINE GREEK PENNE CHICKEN PESTO CHICKEN FLORENTINE

Desserts BAKLAVA GREEK LEMON CAKE KEY LIME CHEESECAKE TIRAMISU (LADYFINGERS)

From Our Greek Bakery FLAT BREAD GREEK BREAD BASIC PITA PIE

***** BONUS RECIPES ***** EASY "MOCK" GREEK GYROS GYRO SAUCE

BUT THERE'S MORE!!!!! You will ALSO receive as a FREE GIFT an amazing *BONUS RECIPE* for "VEGETARIAN GYROS" on a limited edition, hand-made recipe card - that's right, absolutely scrumptious VEGGIE Gyros that will satisfy even the most hardcore meat-eaters. "Tastes like the real thing" Your BONUS recipe will be included on a LIMITED EDITION, HAND MADE RECIPE CARD!!


Email: hypnosisbooks@aol.com