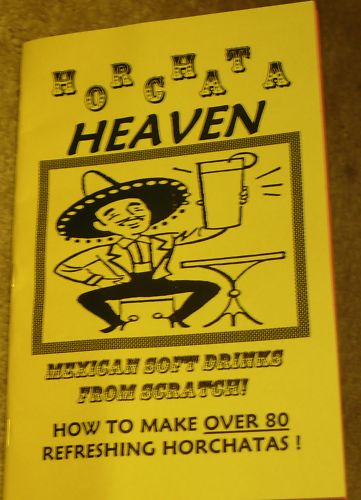 HORCHATA HEAVEN: MEXICAN SOFT DRINKS FROM SCRATCH

by James Osbourne Enriquez

Softcover book, 40 PAGES long.

Never pay for restaurant horchatas again! This is THE cookbook of Horchatas,AND ONLY HORCHATAS Learn to make horchatas easily and inexpensively with this one of a kind cookbook.

What makes this a beautiful cookbook is that it has colored pages and a nice font so you can easily read

RECIPES INCLUDE

ACAPULCO MILK HORCHATA
ALMOND HORCHATA
ALMOND HORCHATA, large batch
ALMOND RICE MILK HORCHATA
APPLE HORCHATA
AZTEC ALMOND HORCHATA
BANANA and RICE HORCHATA
BIG BATCH HORCHATA THE EASY WAY
BLACKBERRY HORCHATA
BLACKBERRY HORCHATA
BOYSENBERRY HORCHATA
BROWN RICE AND PECAN HORCHATA
BROWN RICE HORCHATA DRINK
CARBONATED HORCHATA
CHERRY HORCHATA
CHERRY HORCHATA
CHOCOLATE ALMOND HORCHATA
CHOCOLATE MILK HORCHATA
CHUFA HORCHATA
CHUFA NUT HORCHATAS
CLASSIC HORCHATA
COCONUT MILK HORCHATA
COOL SUMMER HORCHATA
CRANBERRY HORCHATA
CREAMY HORCHATA
EASY LIFE HORCHATA
EASY RICE FLOUR HORCHATA
EXOTIC HORCHATA
FANCY RESTAURANT HORCHATA
FAUX ALMOND RICE HORCHATA
FRESH APPLE HORCHATA
FRESH BLACKBERRY HORCHATA
FRESH BLUEBERRY HORCHATA
FRESH CINNAMON HORCHATA
FRESH LEMON HORCHATA
FRESH LIME HORCHATA
FRESH MANGO HORCHATA
FRESH PAPAYA HORCHATA
FRESH PEACH HORCHATA
FRESH PINEAPPLE HORCHATA
FRESH RASPBERRY HORCHATA
FRESH STRAWBERRY HORCHATA
FRUIT PUNCH HORCHATA
GRAPE HORCHATA
HONEY HORCHATA
HORCHATA, sinaloa style
HORCHATA ICE CUBES
LATINA MARKET HORCHATA TREAT
LEMON-LIME HORCHATA
LOS ANGELES HORCHATA
MANGO HORCHATA
MAPLE ALMOND HOLIDAY HORCHATA
MELON HORCHATA
MEXICAN CAFÉ ALMOND RICE HORCHATA
MILK CHOCOLATE HORCHATA
MILK HORCHATA
MILK OF ALMOND HORCHATA
NATURAL HORCHATA
NUTTY HORCHATA
ORANGE HORCHATA
ORANGE ZEST HORCHATA
OVERNIGHT HORCHATA
PAPAYA HORCHATA
PEACH HORCHATA
PEAR HORCHATA
PINEAPPLE HORCHATA
PINEAPPLE HORCHATA
RICE PUDDING HORCHATA
RICE WATER HORCHATA
SEVENTIES HORCHATA
SOY MILK HORCHATA
SOY RICE HORCHATA
STREET STAND HORCHATAS
SUGAR CINNAMON HORCHATA
TIJUANA HORCHATA
WHITE CHOCOLATE HORCHATA
BONUS SECTION HORCHATA DRY MIXES, JUST ADD WATER
PLAIN HORCHATA MIX
CHOCOLATE HORCHATA MIX
STRAWBERRY HORCHATA MIX
MALTED HORCHATA MIX
GRAPE HORCHATA MIX
CHERRY HORCHATA MIX
LEMON LIME HORCHATA MIX
ORANGE HORCHATA MIX
RASPBERRY HORCHATA MIX

That's OVER 80 recipes. This is the only book you'll ever need to become an expert at horchata making.