Intensive Self Hypnotherapy book By R.E. Neuman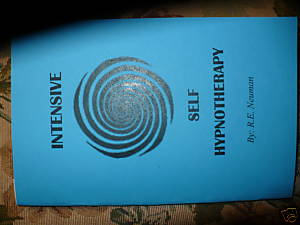 Solar Vision/BRAND NEW/40 Pages/Softcover/2009!

SOLVE ALL OF YOUR PROBLEMS WITH HYPNOSIS! with this brand new book:

"INTENSIVE SELF HYPNOTHERAPY" by R.E. Neuman - HERE IT IS!! The long-awaited follow-up to the book "Hypnotize yourself to accomplish anything" (view other auctions for a copy of that) - This book is far more intensive and detailed.. this new book makes Self-Hypnosis easier than ever... BUT MORE EFFECTIVE than ever as well. This book features:

* NEW method to relax the body and mind more deeply than previously thought possible!

* Go into a DEEPER trance than you've ever been!

* Learn to place suggestions DEEP in your subconscious mind where they go to work immediately!

* Hypnotize yourself for ANY purpose. Get ULTIMATE results right from home!

* FULL SCRIPT for easy, effective hypnotic trance EVERY TIME!

* Many sample "Sub Scripts" (Hypnotic suggestions), plus how to word your own suggestions for MAXIMUM results!

* COMPLETE SYSTEM for deep trance and hypnotic success...just follow the easy steps!


Email: hypnosisbooks@aol.com