How to Publish & Sell Information by mail order( And Keep all the profits) Book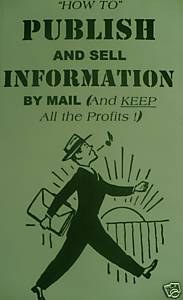 HOW TO PUBLISH AND SELL INFORMATION BY MAIL (AND KEEP ALL THE PROFITS) published by Shadow Books -Copyright 2009 softcover, 32 pages packed with great info. Here's the table of contents:

HOW TO SELL INFORMATION BY MAIL
WHY SELL INFORMATION?
WHAT CAN I SELL?
YOU HAVE IMAGINATION
YOU KNOW SOMETHING SPECIAL
WHO WILL BUY?
YOU HAVE SOMETHING TO SAY
PREPARING A MANUSCRIPT IS EASY
CAN SOMEBODY HELP?
TIPS ON WRITING
GO SLOWLY AT FIRST
WHAT ABOUT CASSETTES OR CD's?
HOW TO PROTECT YOURSELF
RUNNING THE BUSINESS
SELLING WHOLESALE
JUST TESTING
RUNNING CLASSIFIEDS
DISPLAY ADS
WRITING AD COPY
YOU'RE SUCCESSFUL!
ANALYZING RESULTS
GOING TO PRESS
WHAT ARE THE LAWS?
WHAT TO DO WITH ALL THIS MONEY?
BUILDING REPEAT BUSINESS
HOW TO WRITE AND SELL INFORMATION BY MAIL ORDER
SELL YOUR SPECIALTY
HOW TO GET STARTED
TYPICAL AVENUES OF APPROACH
HOW TO RECEIVE ORDERS IN YOUR MAILBOX 365 DAYS A YEAR!
BONUS CHAPTER: MAKE A FORTUNE FROM "FREE" GOVERNMENT PUBLICATIONS!

Email: hypnosisbooks@aol.com