Future Millionaire's: MLM Book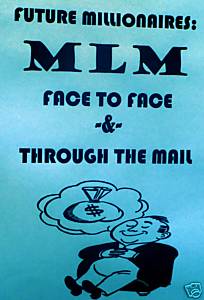 Copyright Shadow Books Production 2009/ 28 Pages/ Softcover/BRAND NEW!!

Includes:
***TABLE OF CONTENTS***

***HOW TO CHOOSE A WINNING MLM PROGRAM

***MLM PROMOTION: FACE TO FACE

***MLM PROMOTION BY MAIL ---Learn HOW TO EASILY GENERATE LEADS AND PROMOTE YOUR MLM PLAN TO COLD PROSPECTS INEXPENSIVELY BY MAIL

***Plus** BONUS: 50 MLM TIPS AND TRICKS TO SKYROCKET YOUR INCOME!!!!!!!


Email: hypnosisbooks@aol.com