The *New Jeresy Italian Deli* Restauarant Cookbook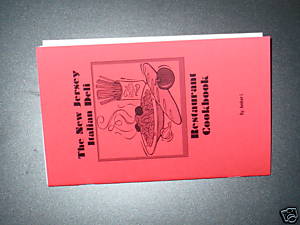 THE NEW JERSEY ITALIAN DELI RESTAURANT COOKBOOK---ULTRA RARE!!!! Signed by author

Solar-Vision Publishing/Copyright 2009/40 pages/Softcover/BRAND NEW!!

Have you always heard of the wonderful food like MOUTH-WATERING subs, BUTTERY pastas,ICY beverages, FRIED appetizers, AUTHENTIC Italian desserts, CRUNCHY salads,and italian dishes..BAKED TO PERFECTION... that harbors the East Coast..and have long since made the east Coast famous? Or have you lived on the east coast, and have moved, noly to notice that food anywhere else isn't the same?

Or, do your family spend so much money on pizza joints, or fancy Italian restaurants cause you and your family love the Italian food and can't get anough of it? THIS IS THE COOKBOOK FOR YOU---------The author has worked very hard to bring you the beauty and flavor that a New Jersey Deli/restauarant has to offer. She takes you through step-by-step, easy to follow instructions on how to make the following for a family setting..........

Recipes Include: APPETIZERS....Mussels, Fried-fish Italian style, Italian Bread,Garlic Bread, Mozzarella Sticks,Meatballs,Hot Italian Sausage,Sweet Italian Sausage, Baked Buffalo Wings,Italian Fried Potatoes,French Fries (Deep Fryer Method),French Fries (Oven Method),French Fried Onion Rings,Garlic Knots,Fried Artichokes,Fried Spinach,Chicken Fingers...

BAKED DISHES....Stuffed Shells,Baked Ziti,Grandma's Lasagna,Calzone Fried Pizza,CALZONE...BB"Q Chicken calzone

COLD SUBS...Ham, Provolone & Salami sub,Johnny's Ham Special sub,Roast Beef sub,Turkey sub,Italian Veggie Deluxe sub,Tuna Sub

HOT SUBS....Meatball Sub,Sausage & Pepper Sub,Chicken Parmigana sub,Crispy Chicken Club sub,Cheese Steak Sub,Cheese Steak Sandwich w/Everything sub

ENTREES...Spaghetti w/Meat Sauce,Meat w/Sauce Dish,Eggplant Parmigana,Eggplant in Skillet,Zucchini Parmigana,Bell Peppers Au Gratin,Chicken Fettuccini w/Alfredo Sauce,Pesto Chicken Florentine,Chicken Marsala,Chicken Cacciatore "Naples Style" w/Wine

HOUSE SPECIALTIES...Chicken Pesto Panini,Chicken Salad Panini,Stromboli

SPECIAL SAUCES...Oil & Garlic Sauce,Butter Sauce,Butter & Cheese Sauce,Clam Sauce,Meat Sauce,Pesto Sauce,Vodka Sauce,Fettuccini Alfredo Sauce

PIZZAS & RELATED....Basic Pizza Crust,Four Cheese Pizza,Thin Crust Pizza Dough,Italian Bread Recipe For Pizzas,Fried Pizza,Sicilian Pizza,Pizza Margherita,Pizza Marinara

SALADS...Green Salad w/Oil & Vinegar Dressing,Chicken Salad

PASTA SALADS & SOUPS...Sicilian Antipasto,Rice & Bean Soup,Italian Potato Salad,Creamy Coleslaw,Escarole Soup,Fresh Garden Minestrone

ITALIAN DESSERTS...Biscotti (Italian Anise Sticks),Italian Cream Pudding,Spumoni Recipe,Italian Ricotta Cheesecake

BEVERAGES.....Almond Liqueur Almaretto Recipe,Old-Fashioned Root Beer,50/50 Bar Drink

MISCELLANEOUS....Ravioli Dough,Ravioli Filling,Stuffed Rigatoni,Ricotta Or Cottage Cheese Filling,Meat Filling For Stuffed Pasta,Italian Dressing,Oil Dressing For Subs,Tom's River Ranch Dressing,Home-Style Ranch Dressing,Marinara Dipping Sauce,Pizzaiola Sauce,Foccacia Bread,Fresh Homemade Pasta.......AND Italian Food Ingredients Guide!!!

There is no other cookbook quite like this one, with SO MANY GREAT RECIPES, it is unique, and signed by the author....
Email: hypnosisbooks@aol.com