***The Polish Girl Cookbook*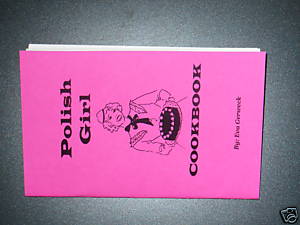 POLISH GIRL COOKBOOK by Eve Gerweck - 2009, 44 pages/BRAND NEW/Softcover!!

Here is Polish-American cooking the way it USED TO BE! These are authentic recipes dating all the way back to the 1940's from an area in detroit known as the "old neighborhood" where there was once a strong Polish community, that long since spread out into the suburbs. Remember what the food was like? It's all here in this treasure of a cookbook:

APPETIZERS, SIDES AND SAUCES: Wrapped sausage links, Polish cream cheese spread, Pickled Herring, Nalesniki (Polish crepes w/ cheese), Polish Marinated Mushrooms, Kielbasa Pockets, Cuckumbers & Sour Cream, Basic Polish Kluski, Potato Kluski, Polish potato salad, Polish-German potato salad, Pickled Eggs, Beet soup, Polish Slaw, Waldorf salad, Cream of Spinach soup, Garlic Cucumber Pickles, Instant Borsch, Hollandaise Sauce, Horseradish sauce, PYZY, Stewed cabbage, Polish Split Pea soup

ENTREES AND MEALS: Pierogie Dough, Basic potato & Cheese Pierogies, Cottage Cheese Pierogies, Upper Penninsula Pierogies, Hunter's Stew, Stuffed greed peppers, Traditional "old neighborhood Pasties, Stuffed Cabbage, Polish Goulash, Pork Chops & Kraut, Pepper Steak, Polish Meat Potatoburgers, Polisyh Spicy Supper, Salmon Squares w/ Mustard egg sauce, Chicken A La King, Chicken Corn Casserole, Polish "dinner in a dish", Beef Vegetable Squares, Polish Barbecued Steak, Polish Sausage Omelete, Pigs in a blanket Breakfast, Cream Chipped Beef

BREADS AND ROLLS: Poppy seed rolls, Highland Breakfast scones, Polish Walnut bread, Hot cross buns w/ icing, Polish Babka, "OLD NEIGHBORHOOD" Sourdough Rye Bread

DESSERTS: Bread Pudding w/Vanilla Sauce, Polish Kolack, Rhubarb Pie Delight, Baked Rice Pudding, Rich Roncicki, Poertzelki (Polish Cookie), Polish Pound Cake, Polish Rice Cake, Kolaczki, and Piernik (Polish Honey Bread)!!!!
Email: hypnosisbooks@aol.com