Spirit of Swami *Fortune Telling Book*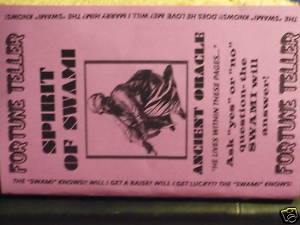 "SPIRIT OF SWAMI" - mystic oracle book - comes with a set of "MAGIC DICE" By R.E. Neuman

Solar Vision/BRAND NEW/44 Pages/Softcover/2009!

This is the "lost" mystical "holy oracle" of a secret society from the 20's, 30's and 40's. Legend has it the "one of a kind" handwritten book has been lost for over 60 years, but has recently mysteriously "resurfaced"..

THE WAY IT WORKS is you concentrate on your question, phrased in a "YES" or "NO" fashion. Through a series of dice throws, you are directed to your answer in the "Spirit of Swami" oracle book!! There is NOTHING QUITE LIKE THIS BOOK available anywhere else!! (Sold for entertainment purposes only)

A special set of charged "Magic Dice" specifically designed for use with the "Spirit of Swami" oracle book is INCLUDED!!


Email: hypnosisbooks@aol.com