THE SWISS BAKERY COOKBOOK By Eve Gerweck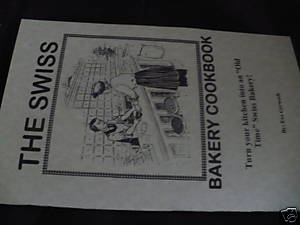 "The Swiss Bakery Cookbook" By Eve Gerweck!*!*!*!

Copyright 2009/SOLAR-VISION/BRAND NEW/40 Pages/Softcover!!

******If you were a FAN of Eve's "Polish Girl Cookbook", you WILL LOVE her newest addition!! This cookbook has all the cookies, cakes, and pastires your Swiss heart will ever desire!! Turn your kitchen into a swiss bakery and learn to make MOUTH WATERING cookies, and other recipes such as:

HAZELNUT CAKE
BUTTERCREAM FROSTING
MOCHA CAKE
MOCHA FROSTING
VANILLA CAKE
VANILLA BUTTERCREAM FROSTING
APPLE-ALMOND CAKE
FRESH HEAVY WHIPPED CREAM
BANANA CREAM CAKE
BANANA NUT LOAF
BLACK FOREST CAKE
CHOCOLATE GANACHE
CARROT CAKE
CREAM CHEESE FROSTING
CHEESECAKE
CHEESECAKE CRUST
CHEESECAKE FILLING
CHOCOLATE BANANA CAKE
CHOCOLATE CHIP BUTTER POUND CAKE
CHOCOLATE MOUSSE CAKE
CHOCOLATE MOUSSE
CHOCOLATE RASPBERRY TORTE
RASPBERRY BUTTERCREAM FROSTING
SWISS CHOCOLATE ROLL
CHOCOLATE STRAWBERRY SHORTCAKE
DECADENT DOBASH
CHOCOLATE BUTTERCREAM FROSTING
GERMAN CHOCOLATE CAKE
GERMAN CHOCOLATE FROSTING
BLACK AND WHITE CAKE
VANILLA ALMOND SPONGE CAKE
CHOCOLATE SPONGE CAKE
APPLE LOAF CAKE
SWISS BUTTER POUND CAKE
RASPBERRY DELIGHT CAKE
RASPBERRY BUTTERCREAM FROSTING
BUTTERCREAM RUM CAKE
BUTTERCREAM RUM FROSTING
STRAWBERRY SHORCAKE

SWISS BUTTER COOKIES
SWISS BUTTER COOKIE VARIETIES
CANDY SPRINKLES
CHERRY COOKIES
CHOCOLATE DIP
CHOCOLATE SPRINKLES
RASPBERRY DROP COOKIES
STRAWBERRY DROP COOKIES
SUGAR COOKIE
TOLLHOUSE SWISS BUTTER COOKIES
CHOCOLATE CHIP SWISS BUTTER COOKIES
CHOCOLATE SWISS BUTTER COOKIES
CHOCOLATE CHOCOLATE COOKIES
REVERSE CHOCOLATE CHIP COOKIES
OATMEAL BUTTERSCOTCH COOKIES
SWISS BLACK AND WHITE COOKIE
HAZELNUT CHOCOLATE DOUBLE STACK COOKIE
HAZELNUT RASPBERRY DOUBLE STACK COOKIE
WHITE CHOCOLATE MACADAMIA NUT COOKIES
SWISS OATMEAL RASIN COOKIES
SWISS PEANUT-BUTTER COOKIES
DIPPED PEANUT-BUTTER CHOCOLATE CHIP COOKIES
PECAN BUTTER COOKIES
PECAN COOKIES TOPPED W/ CHOCOLATE
PECAN RASPBERRY COOKIES
PISTACHIO COOKIES
WALNUT-MAPLE COOKIES

BASIC DANISH PASTRY RECIPE
CREAM CHEESE DANISH
CHERRY DANISH
BLUEBERRY DANISH
APPLE DANISH
STRAWBERRY DANISH
RASPBERRY DANISH
CHERRY-CHEESE DANISH
BLUEBERRY-CHEESE DANISH
APPLE-CHEESE DANISH
STRAWBERRY-CHEESE DANISH
RASPBERRY-CHEESE DANISH

Thank you for looking it is appreciated and have a very nice day!
Email: hypnosisbooks@aol.com