THE THRIFT STORE MILLIONAIRE Book By Roman U. Green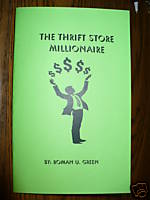 Solar-Vision Publishing/2009/Softcover/BRAND NEW/36 Pages!!

*****How would you like to GET RICH SELLING ON EBAY?? Thousands of others are as we speak! Why not you? This book is written by an Ebay powerseller who went from nothing to putting huge WADS OF CASH in his pocket EVERY DAY simply by scouring his local thrift stores, finding out through trial and error which items would sell on Ebay, and listing them. Doing this every day, he was able to quit his job and work at home full time! Now, he shares ALL of his priceless secrets with you! This book is very, very easy to read and understand, yet contains everything you need to know to start making money immediately starting from NOTHING! Included in this book: The QUICK START guide, where to find products, what kind of things you can sell, and a special chapter "A day in the life of a THRIFT STORE MILLIONAIRE" teaches you how to use the author's "cookie cutter method" to generate huge amounts of cash daily. Don't fall for scams that try to sell you products to list on Ebay - THIS book teaches you to do it all yourself and KEEP ALL THE MONEY! There are enough things all around you at thrift stores and yard sales to MAKE YOU RICH. Author teaches you every single one of his secrets in this great book.

Even though this book could mean thousands of dollars to you, it is being offered at the LOW PRICE of $9.95 (including shipping) so that everybody can have access to this life changing information during these hard times.